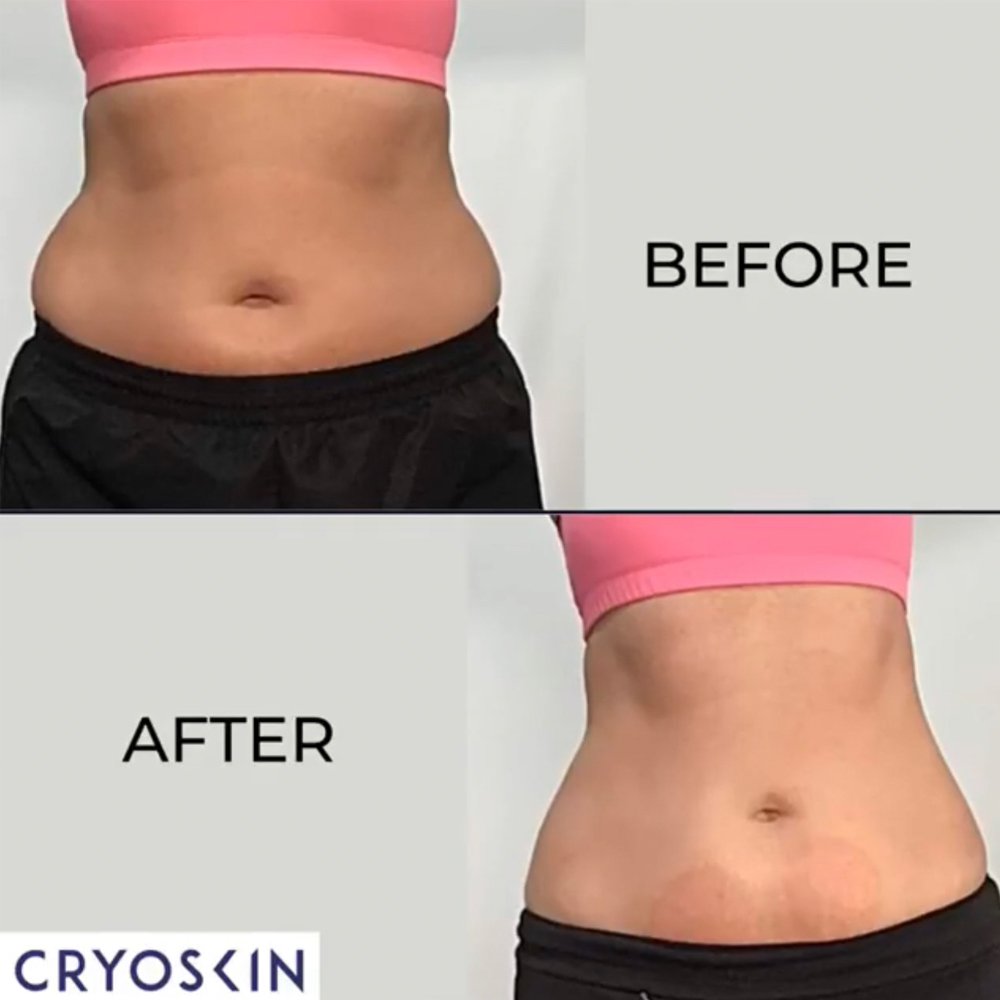 SLIM, TONE & FEEL CONFIDENT IN YOUR BODY
Clinical Study findings:
Cryoskin customers lose an average of 1.85 inches over 5 sessions – Clinical data showed an average reduction of 18.96% in subcutaneous fat. – 100% of those studied experienced improved skin quality. – 87.5% of those studied saw an improvement in body shape. – 94% of those studied experienced a significant reduction in waistline measurement.
Cryoskin works by triggering apoptosis: a natural process of programmed cellular death in the fat cells! Fat cells are more sensitive to changes in temperature than other cells in your body so, this process is triggered by the cold temperature of the Cryoskin wand to decrease fat as well as reduce the appearance of cellulite and improve the quality of your skin.
Cryoskin slims and/or tones the body.
CryoSlimming reduces inches.
CryoToning reduces the appearance of cellulite.
Cryoskin Facial reduces appearance of fine lines and wrinkles, tightens, tones & smooths face to look refreshed, radiant & more youthful looking.
Cryoskin smooths/improves skin from head to toes.
Get slimmed and toned with a cold temperature body manipulation.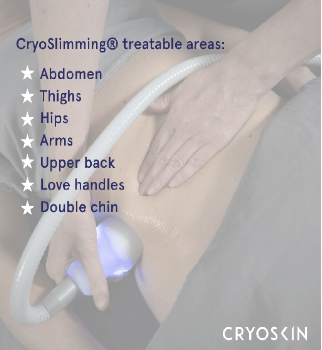 What is Cryoskin?
Cryoskin is a state-of-the-art device from Italy, which uses heat and cold to reduce fat and tone/tighten the skin.
The technology is applied using a technique that is painless and non-invasive.There is no suction, no surgery, no down time. Just incredible results in the end!
Why use Cryoskin?
Cryoskin helps you get your best body now to look and feel your best!
Cryoskin can be tailored to your body shape to help you create the body you want.
A treatment plan will be determined during your consultation.
Depending on what you want to achieve, Cryoskin has 3 treatment types.
CryoSlimming
CryoSlimming first uses heat and then cold temperatures to decrease fat, which is flushed out by the lymphatic system over 14 days.
Whether you're looking to reduce fat on your stomach, thighs, arms, back or legs this is the solution for you. For best results, we recommend a package of treatments and to maintain a healthy lifestyle.
This is not a one-and-done process. It is more beneficial to start with a package and then, after completion, you can do a single session if you like or start another series. You may very well see some results after your initial session but most likely, more noticeable results start around session 3 then more at session 5. Every body is different. Results continue to improve for 48 hours after the treatment.
Each treatment is done every 14 days in order to not overtax the lymphatic system. If you have a BMI of 35 or higher, it is best to get this lower before being treated.
You can combine slimming & toning treatments if necessary and do slimming one week, then toning, slimming etc.
We work on one area at a time. So, for instance, you want slimming in the abdomen and legs, you will choose which area is of most importance to you. We will first work on that area until sessions are completed, then start the other area.
Things to remember:
For optimal results, you should fast 2 hours before and after your slimming session. Also, limit your carb & sugar (even the good kind) intake during all phases of treatment sessions.
It is also important to drink 51 ounces of water daily (1.5 liters). This helps with the elimination process of cellular debris and helps the lymphatic system work more efficiently.
Contraindications:
Active cancer, HIV/AIDS, lymphatic disorders, severe kidney and liver disease, uncontrolled diabetes and diabetes-related complications, pregnancy/breastfeeding, severe Raynaud's syndrome, severe allergy to cold, progressive disease (MS, ALS, Parkinson's, neuropathy), irremovable piercings in treatment area, implants in treatment area, hernia in area to be treated, open wounds, impaired skin sensitivity, pacemaker/defibrillator in or adjacent to area to be treated, active/severe eczema, rashes, or dermatitis, Use of topical antibiotics in desired treatment area, sensitivity to propylene glycol, surgery past 6 months, metal implants in treatment area, lower limb ischemia
CryoToning:
CryoToning uses cold temperatures to stimulate collagen production, which decreases the appearance of cellulite and smooths skin. Shape those tough areas that diet and exercise just can't reach! CryoToning sessions can be done every 3-7 days. Contraindications are all of the above under CryoSlimming including mesh inserts in treatment area
CryoFacial:
CryoFacial uses cold temperatures on the face to stimulate collagen, which reduces the appearance of fine lines & wrinkles, improves skin elasticity and overall facial rejuvenation. These are great for both men & women! CryoFacials can be performed every 3- 7 days.
If you use Botox you must wait one month after injections. Fillers – allow three months.
Contraindications same as those listed above.
Allow 60 minutes for each treatment.
Please wear the same or similar style clothing to each appointment for pictures and comparison.
Pricing
Cryo-Slimming® and Cryo-Toning®:
5 sessions: $1500 (at $300 each)
10 sessions: $2750 (at $275 each)
20 sessions: $5100 (at $255 each)
Cryo-Facial:
This amazing treatment is also complimented with red light therapy to further enhance skin revitalization
Single session: $200
5 session: $800 (at $160 each)
10 session: $1400 (at $140 each)
Purchase a Cryo-Slimming or Toning package and receive a CryoFacial for $170!
Coolsculpting VS. Cryoskin:
Cryoskin is more instantaneous, whereas Coolsculpting can take up to 12 weeks.
Coolsculpting can be painful – whereas 88% of people enjoy Cryoskin like a massage.
Coolsculpting has incidences of "shelving" (fat collecting in other areas due to the suction) and numbness. Adverse effects of Cryoskin are uncommon– usually just redness and temporary numbness)
Coolsculpting charges $600 – $1,000 per treatment. Many need 4 applications or more. You can try 1 session of Cryoskin for $350 or $1,500 for a 5 pack.
Coolsculpting and Cryoskin produce similar fat loss in treated areas– 20%. Coolsculpting has many clinical studies and our results are based off of one clinical study (more to come though!).